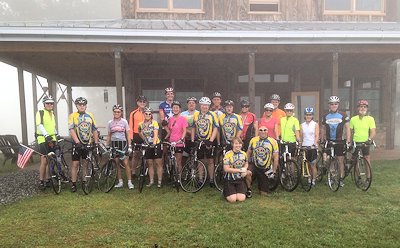 The Southern Appalachian Bicycle Association (SABA) will hold a meet and greet potluck dinner at Nottely River Valley Vineyards on Friday evening, August 31 at 6:30 PM. Come out and meet other cyclists in the area and enjoy a great evening at the vineyard. Bring a friend and/or your family!
The event will start off with a wine tasting presented by vintner, Steve Thompson and will follow up with a potluck dinner. Please bring a dish to share.
If you wish to participate in the wine tasting (optional), Nottely River Valley Vineyards charges $9.00 per person to taste 5 wines and includes an engraved Nottely Wine glass to take home.
The vineyard is located at 1150 Old Culberson Road, Murphy NC, 28906. Since the event venue is unique, we ask that you rsvp to events@sabacycling.com and let us know how many will be attending.
We hope to see you there!
*Note: due to State regulations, you cannot bring alcoholic beverages into the vineyard, however wine will be available for tasting and by the glass. The vineyard accepts cash and credit cards.
For additional information about the The Southern Appalachian Bicycle Association, visit https://sabacycling.com